The cuteness of cats is common to the whole world!
Since 12.Jul.2008
Relax with cute cats 

Information
Sep. 19 - 20 : Temporary closure
We will be closed on October 14th because our cats are getting old.
We appreciate your support for over 11 years.
*We are a small cat cafe.
So please refrain from coming our cat cafe with 5 or more persons.

*If you plan to visit our cafe on weekends, we recommend visiting our cafe by 5pm.
 (We are crowded on weekends. If you visit us after 5PM, we might not be able to accept you due to full house.)
*We don't accept children under 13 years old.(Please make sure you bring the child's passport to prove child's age.)
*we recommend to wear long pants or long skirt.(Our cat's like long pants and long skirt.)


Guide
business hours
weekdays : 13:00-18:00(Last admission 17:00)
weekends and national holidays : 11:00-19:00(Last admission 18:00)
regular holiday
 Tuesday
address
 Oikekano bldg 2F, 590 Oikedaitocho, Nakagyo-ku Kyoto, Japan
reservations
 We don't accept reservations.
contact
 kyoto@nekokaigi.com

  *We don't accept children under 13 years old.(Please bring the child's passport.)

You can use free wi-fi service in "Cat Cafe Nekokaigi".

Price
 ・Admission charge(with 1 hour stay) 900 yen
 ・Further extension per 30 minutes  400 yen
  (If you stay more than 1 hour, extension charge is needed automatically.)
 All drinks are subject to extra charge. It is not compulsory to order drinks.
Drink Menu

Hot

・Coffee
200yen
・English tea (black or milk )
200yen
・Camomile tea
200yen
・Apple tea
200yen
・Cappuccino
300yen
・Cocoa
300yen
・Matcha(Green tea)
300yen
・Matcha latte
300yen

Cold

・Iced coffee
200yen
・Iced English tea ( black or milk )
200yen
・Orange juice
200yen
・Oolong tea
200yen
・Iced cocoa
300yen
Rules of Nekokaigi
  ・You can take pictures without flash.
  ・No smoking.
  ・Don't give drink such as the syrup and milk to the cat.
  ・Don't disturb cat's sleep.
  ・Don't hold or move the cat by force.
  ・Don't bring drink, food, or catnip into the cafe.
  ・Please put your baggage in the locker.
Map
 Our cafe is a 3minutes walk to the west on Oike-dori from Subway Tozai line "Kyoto Shiyakushomae station" (Near the exit 9 of Kyoto Zest Oike). or a 5minutes walk to the east on Oike-dori from Subway Karasuma line "Karasumaoike station"(from the exit 1).
 We don't have bicycle parking.
 If you visit us by a taxi,please show the following sentences to the taxi driver.
---------------------------------------------------------------------------------------
当店「猫カフェねこ会議」の場所は、
京都市中京区御池通麩屋町西入る御池大東町590御池加納ビル2階です。
御池通の北側の通り沿いで、麩屋町通と富小路通の間です。
1階が「はんこ屋さん21」の入ったビルの2階です。
---------------------------------------------------------------------------------------
Entrance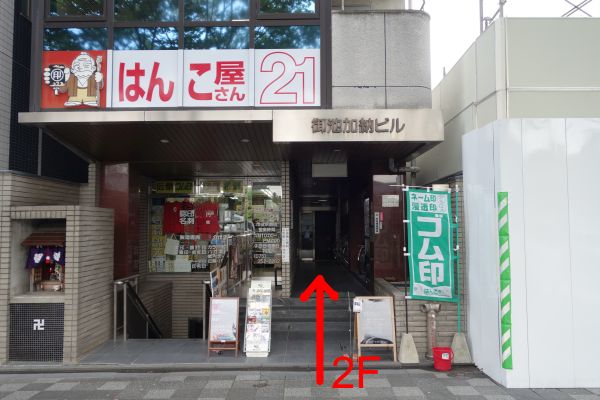 This is the front of the building.
Use the elevator in the back at the building.